It's time to use up some of that basil from your summer harvest and learn how to make your own herb infused water with the addition of fresh fruit for a fruit flavored water.
Did you know that sometimes drinking water isn't enough to keep you hydrated? During the heat of the summer when we work and play hard, we need something that contains electrolytes which includes different minerals. Instead make an herbal fruit infused water with either some fresh herbs or a dried herbal tea.
No need to reach for juices, sodas, or energy drinks with lots of added sugar. Toss some homegrown herbs and some freshly plucked fruits into your shaker and create thirst-quenching drinks that'll be way tastier and healthier than the pricey pre-mixed stuff that's loaded with who-knows-what.
4 Keys for a Hydrating Summer Electrolyte Drink
The addition of herbs, fruit, and a good quality sea salt to your infused water will ensure that the following minerals will be added to your drink and thus to your body:
Calcium - Helps to maintain muscle, nerve and bone health.

Potassium - Helps to maintain blood pressure and keep the muscles from cramping.

Magnesium - Also assists with muscle cramping as well as digestive health, stress and anxiety.

Sodium - Aides in keeping your body fluids balanced, nerves healthy and more help for those muscles.
Keep reading to learn how to make five different varieties of Basil infused water.


What is Herbal Infused Water?
A herbal infused water is quite simple.
Water + herbs + fruit + time = Herbal Infused Fruit Flavored Water.
Making your own herbal infused fruit water in your own kitchen couldn't be easier. Choose your herbs for either medicinal benefit and / or flavor. Fruit add flavor and sugar which is essential to any good electrolyte drink. Add water and give it time for the flavors to infuse, and now your sipp'n on your own infused waters. Let's dive a bit deeper though shall we?



How to Make Basil Infused Water


Stay hydrated while enjoying all the delicious flavors of the summer season. Try these basil infused, fruit flavored water combos. It's as easy as mashing your herbs and fruit and letting the mixture steep using the cold brew method.
Ingredients and Equipment Needed:
Step-by-Step Instructions for Herbal Infused Water
If using fresh herbs, rinse the leaves in cool water.

Add the herb leaves and fruit of your choice to your container, mashing with your spoon to release the juices.

Cover the herbs and fruit with filtered water.

Stir in the sweetener if desired.

To add an electrolyte boost, add a pinch of

sea salt

(optional).

Cover your container with a lid and place in the fridge for 2-4 hours or overnight.

Strain the herbs and fruit (this will increase the self life and prevent unwanted bacteria from growing), and pour all the goodness straight into your glass.
Basil Infused Water - 5 Ways
Try out the following fun flavors with your herbal infused water:
Cucumber Basil Water:

Add Basil and thinly sliced cucumber (peel if not organic) to your jar or pitcher. Mash to release juices. Add sweetener and salt if desired. Cover with water and refrigerate. Cucumber infused water with basil is light and refreshing!




Strawberry Basil Water:

Mash your strawberries and basil in your jar. Add sweetener and salt if desired. Cover with water and chill. You just made strawberry basil infused water! Wasn't it easy?




Lemon Balm & Basil Water:

If using fresh herbs, moisten and crush with the back side of a heavy wooden spoon. Add your optional sweetener and salt if using. Cover with water and pop in the fridge.




Basil & Lemon Water:

Using thin lemon slices and Basil, crush together in your jar or pitcher. Add sweetener and salt if using. Cover with filtered water and chill.




Basil & Watermelon Water:

Cut 1 inch chunks of watermelon. Add them to your jar or pitcher along with your basil leaves. Crush together, cover with water, and refrigerate.
The Legal Stuff
The contents of this blog are made available via St. Fiacre's Farm LLC through Grow Create Sip and Farmhouse Teas and are for informational purposes only. This blog does not constitute medical advice; the content is not intended to be a substitute for professional medical advice, diagnosis, or treatment. Always seek the advice of a qualified healthcare provider with any questions you may have regarding a medical condition. If you think you may be suffering from any medical condition, you should seek immediate medical attention. You should never delay seeking medical advice disregard medical advice or discontinue medical treatment because of information provided by St. Fiacre's Farm, Farmhouse Teas or Grow Create Sip. Reliance on any information provided by this webinar is solely your own risk. St. Fiacre's Farm LLC (along with Farmhouse Teas and Grow Create Sip) is a participant in the Amazon Services LLC Associates Program, an affiliate program designed to provide a means for our team to earn fees for recommending our favorite products! Along with additional affiliate programs not associated with Amazon. We may earn a small commission, at no additional cost to you, should you purchase an item after clicking one of our links. Thanks for supporting us!
Health Benefits of Basil Infused Water
You can vary the health benefits of your infused waters based on the herbs you choose to use. The basil infused water benefits are many, but just a few include:
Aids digestion

Boosts immunity

Reduces inflammation

Increases hydration
Alternate Methods for Making Herbal Infused Waters
Make a weak tea:



An alternate method for making a herbal infused water is to create a weak tea by steeping herbs in hot water, and allowing them to cool completely, straining, and mixing in fresh fruit for the chilling period in the fridge. After chilling for 3-4 hours, or overnight, strain the fruit, and enjoy!




Solar Infusion:



Ever made sun tea? Solar infusions are one of the oldest methods for infusing herbs into water. Place all your ingredients (fruit and herbs) in a clean jar. Mash to release the natural juices. Cover with room temperature water. Place outside or in a sunny window for at least 2 hours or all day. Strain and enjoy!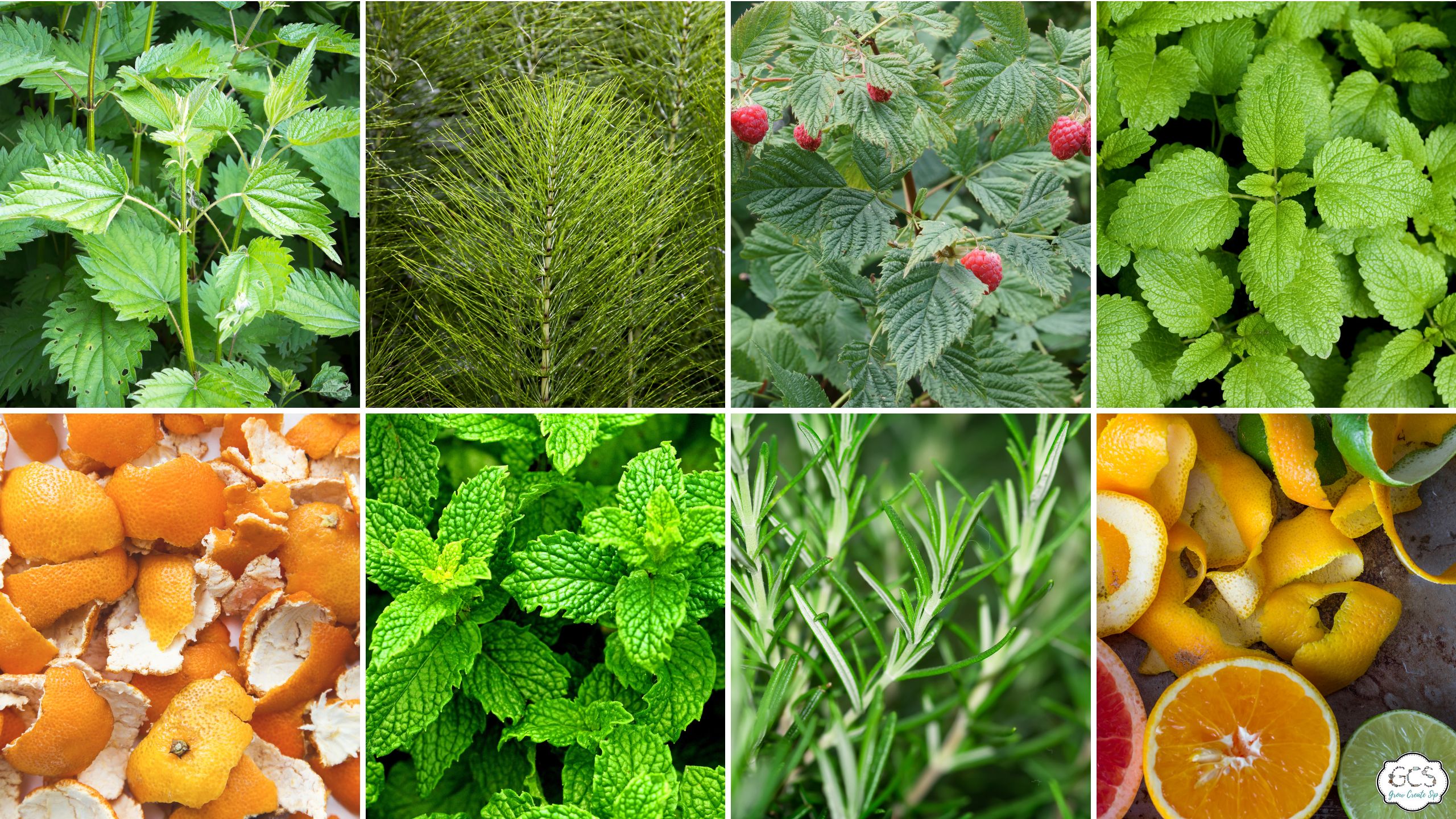 Try these Herbs to Make Your Own Flavors
Want to mix it up a bit? Use these flavor ideas to add more electrolyte power to your herbal infused water. Develop your own flavors based on your tastes and the herbs you have on hand.
Other Herbs High in Calcium/Magnesium:
Horsetail

Nettle

Red Raspberry

Lemon Balm

Orange Peel

Lemon Peel

Peppermint

Rosemary
Experiment with Other Electrolyte Drinks
There is an array of different ways to get your electrolytes in from herbal teas, infused waters and even switches! Also known as Haymaker's Punch, Switchel is great for hydrating you after a day of hard work in the sun. Check out how our friend Carolyn, from Homesteading Family makes her Switchel recipe here. Find additional natural ways to hydrate and get natural electrolyte recipes here as well.
Dive Deeper into Blending Your Own Herbal Infusions
In this post we dived deep into how to use that basil abundance from the garden to create healthful infused electrolyte drinks with seasonal flavors. We hope you'll give herbal infused water a try, or make some Switchel. Either are great ways to hydrate this summer.
If you would like to dive deeper into the world of herbal infusions make sure to check out our Free Tea Blending Workshop or Free Kombucha Brewing Workshop. These mini video courses will have you brewing flavorful teas and kombucha in no time.
Before you go, I'd love to know if you've made herbal infused waters before. What are your favorite flavors? Comment below to let me know.


Other Articles you May Enjoy!
Are you getting weekly tips on all things herbal?
Growing, creating, recipes, herbal medicine tips, and more every week right to your inbox (including sales on herbal goodness!) Make sure you grab it here!
We hate SPAM. We will never sell your information, for any reason.